Photo: N. Guiraud/L'express
A scarf is one of my favorite multitasking travel accessories. I use them for all sorts of things: a blanket on the airplane, nursing cover, sunshade over the stroller, or a barrier between my child and a nasty surface. Sadly, as a Phoenix resident the scarf-wearing window is brief.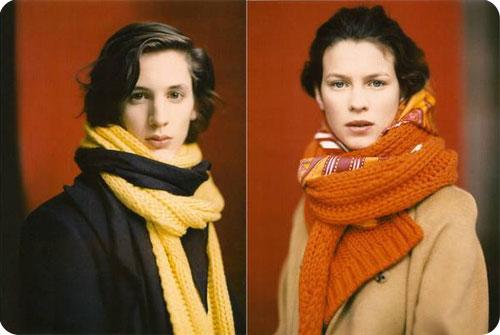 Photo: Monde d'Hermès

I'm asked with relative frequency how Parisians manage to make such a simple accessory look so chic. I've mastered a few styles myself--with some help from salespeople in Parisian departments stores and my French host families.
I found a few how-to videos to help spread the scarf-love. Remember a scarf's fabric is everything--if you can't get the look you want, try one with a different weight and texture.
For the guys (and girls), Italian rugby player Luke McLean:
I think this is the most helpful video:
If you are still reading, here are some laughable scarf-tying atrocities!: